Finnish activists occupy Greek islands to fight EU crisis aid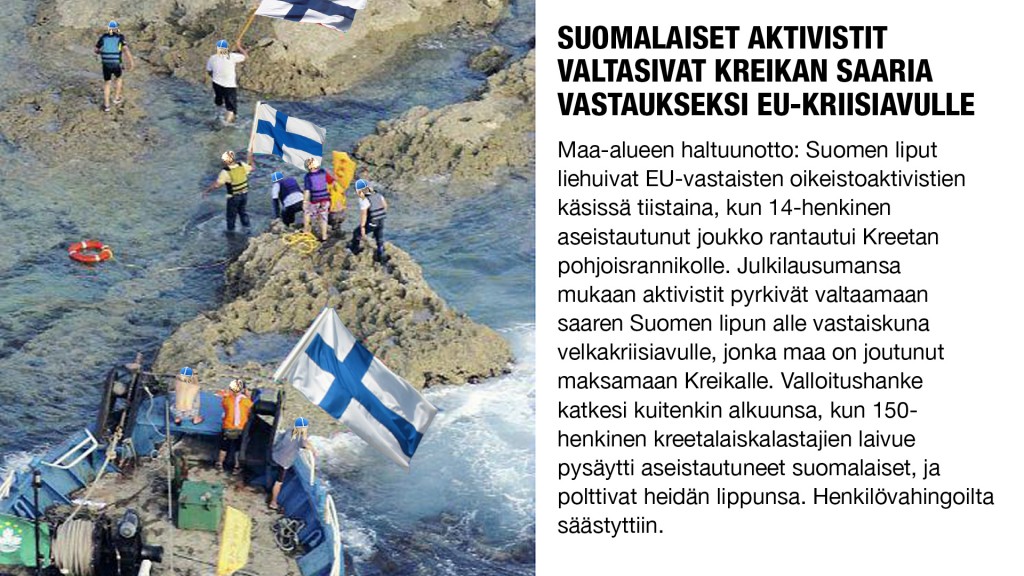 Suomalaiset aktivistit valtasivat Kreikan saaria vastaukseksi EU-kriisiavulle
Maa-alueen haltuunotto: Suomen liput liehuivat EU-vastaisten
oikeistoaktivistien käsissä tiistaina, kun 14-henkinen aseistautunut
joukko rantautui Kreetan pohjoisrannikolle. Julkilausumansa mukaan
aktivistit pyrkivät valtaamaan saaren Suomen lipun alle vastaiskuna
velkakriisiavulle, jonka maa on joutunut maksamaan Kreikalle.
Valloitushanke katkesi kuitenkin alkuunsa, kun 150-henkinen
kreetalaiskalastajien laivue pysäytti aseistautuneet suomalaiset, ja
poltti heidän lippunsa. Henkilövahingoilta säästyttiin.
- – -
Finnish activists occupy Greek islands to fight EU crisis aid
Island takeover: the Finnish flags soared proudly in the hands of a
group of 14 anti-EU right-wing activists on the North coast of the
Greek island Crete on Tuesday. The group declared to take action as a
countermeasure for the financial crisis aid Finland has paid to
Greece. After Crete, the activists have planned to take over Cyprus and
Corfu. The invasion came however to a sudden end, as a fleet of
150 Cretan fishermen seized the Finns and burnt their flag. No blood
was shed.